Reisopack semi-automatic strapping machine in a fixed automation line
Automation lines often use fully automatic pallet strapping machines. However, there are processing line in which few pallets are processed and the investment of a fully automatic strapping is too big. In this case, it is possible to opt for a semi-automatic strapping machine. Reisopack on pole and sliding carriage This semi-automatic strapping machine consists of a pole and sliding carriage that can be installed in an automation line. The strap head is attached to the pole can be moved in height. The pole is fixed on a sliding carriage. A sliding carriage is a part that is fixed on the ground. The pole can slide easy on the pole forward and backwards. This allows the binding head to be placed at the correct distance from the pallet. The pallet can pass on a conveyor belt or the pallet can be placed next to the pole with a forklift truck or pallet truck. If the pallet is placed on the ground, corner profiles can be used to place the pallets at the same place to neatly strap the pallet.
From left to right: sliding carriage, two Reisopack 2800 in setup, pallet on the ground with corner profiles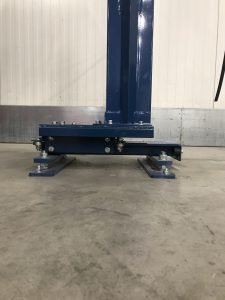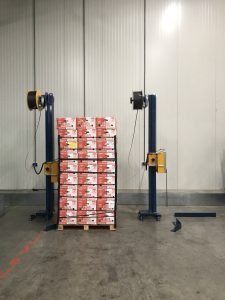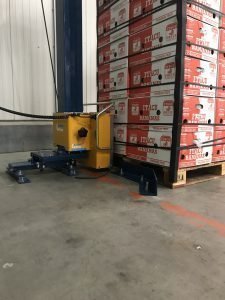 Reisopack 2800
A Reisopack 2800 on a pole and sliding carriage is used as standard. The minimum binding height is 15 cm and the maximum binding height is 240 cm. The machine works on 230 volts and can therefore simply be connected to the mains socket. The roll of strappingband is on the the top of the pole and it is possible to strap 1 pallet with 4 corner slats and 3 straps in 55 seconds. Reisopack 2830 mobile strapping machine If there is a need for strapping pallets that are not processed in line, you can opt for a mobile semi-automatic strapping machine. This machine can be moved to the pallet instead of having to bring the pallet to the machine. This machine works on a battery and this battery can be charged with 230 volts. Furthermore, the machine has the same specifications as the Reisopack 2800.
Interested
Are you looking for a way to strap your products for a safe transportation and a reduction of packaging material.Bent u op zoek naar een manier om uw producten te omsnoeren voor een veilig transport en vermindering van verpakkingsmateriaal? Please contact us for more information or question. You can call us +31 (0) 85 077 8387 or fill in the online contactform.